JUBI - Increase Focus - Motivate Your Mind - Relieve Stress (Samples)
JUBI - Increase Focus - Motivate Your Mind - Relieve Stress (Samples)

JUBI is a powerful nootropic shot that provides a feeling of stress free clarity and focus while relaxing the body and motivating the mind.

INCREASE FOCUS
People using our long lasting formula have reported…closing big deals, being a more patient parent, executing sales calls, having a productive workout, all while having a huge smile on your face!

STRESS RELIEF
Don't let stress bring you down. Whether it's an important interview, holiday travel, or just trying to unwind on the weekend, try our happy juice! Stop the worry and boost your mood.

MOTIVATE YOUR MIND
Our formula acts as a Nootropic or in other words, a "cognitive enhancer." Who would not want to perform better mentally?! Get motivated and have an awesome day!

Jubi Built on Real Science
Our super special formula starts by boosting your serotonin levels, which are your "happy" neurotransmitters. We accomplish this with proven ingredients such as 5 HTP, Theanine, and our proprietary happy blend. It will also give you a little extra boost! This is not one of those relaxation drinks that makes you feel sluggish and sleepy, this happy has some kick!

When consuming your Jubi give it some time to work its magic. It takes some time for the nootropic portion of our drink to kick in, both relieving stress, as well as increasing focus. The combination of theanine and small amounts of caffeine have been clinically shown to help give people a mental edge.

What is a Nootropic, you ask? It is a "cognitive enhancer." Give yourself the ability to be more sharp, communicate better, and feel more mentally stimulated. This formula lasts up to 12 hours! Be patient and follow the consumption recommendations on the label…just ask around, It Works!!!!

Plain and simple, do you want to be happy and motivated, while also being relieved of stress and extremely focused? Thought so! All you have to do is click order and Take in the Happy! : ]

*This is a powerful Stress relieving/focus/nootropic shot therefore we strongly state no more than one Jubi every 48 hours. This is for adults only and you must be 18 years or older to purchase. By purchasing this product you are consenting to being of age (18 years old or older) and adhering to instructions on label.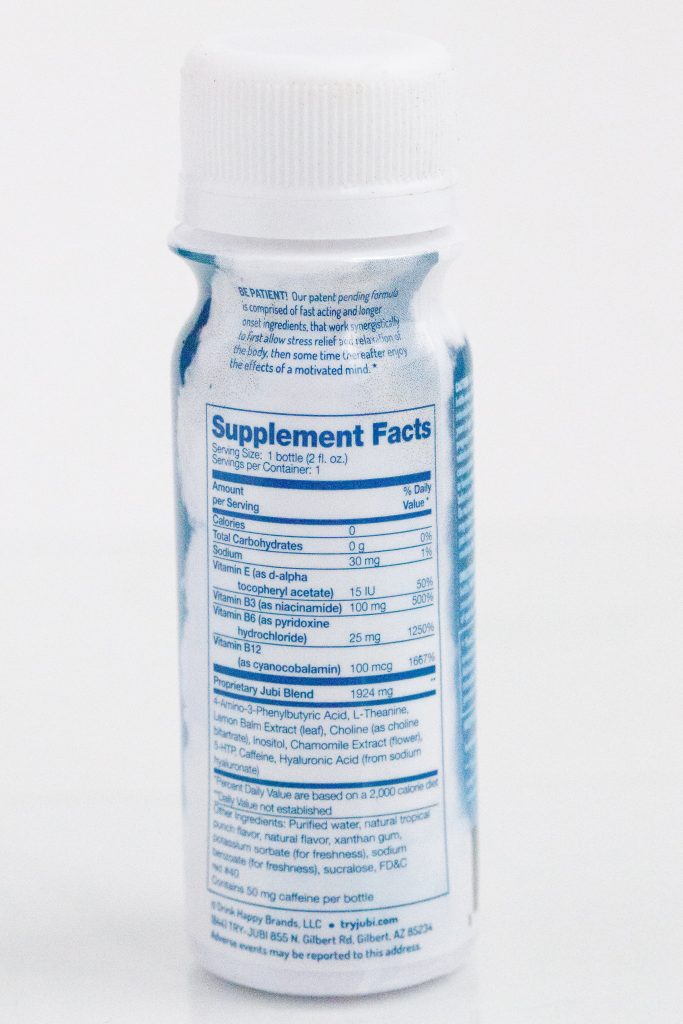 "As a stay at home mother of three, I count on jubi to lift my mood when things become monotonous and stressful. It just makes my day more enjoyable."
~ Alexis Gourd
Mother of three

Packed in a convient Shelf Display Pack.
One Dozen / 12 each / per Pack
2 fl oz (60ml) bottles
Not intended for those under 18 - Must be 18 years or older to purchase.
Read entire label before use.
**These statements have not been evaluated by the Food and Drug Administration. This product is not intended to diagnose, treat, cure or prevent any disease.**

There are no reviews for this product.
Write a review
First Name:
Your Review:
Note:

HTML is not translated!
Rating:
Bad
Good
Enter the code in the box below: