Unplugd - All Natural Herbal Relaxation Shot - Chillax and enjoy being Unplugd! (Samples)
Unplugd - All Natural Herbal Relaxation Shot (Samples)

Uplugd is an all natural effective relaxation drink that comes in a 2oz plastic shot bottle, and contains a unique blend of ancient herbs and plants that promote total relaxation.Formulated to reduce stress and anxiety while promoting better sleep and improved focus, Unplugd is ideal for a variety of stressful situations.It also has a similar relaxation affect as alcohol without the negative side effects and hang-over symptoms.Healthy, safe, and effective this relaxation drink helps calm the nervous system within minutes.

HOW TO USE IT
Follow the instructions on the bottle and consume the bottle in it's entirety. If this is your first time, you can try half and wait for 15 minutes to see if desired effects have been achieved. If not, consume the rest of the contents. Unplugd should NOT be taken when you have many things to do…rather, it should be enjoyed and savored when you have some time to yourself or with close friends and want to chillax and enjoy being Unplugd. Effects will last four to six hours.

chillax and enjoy being unplugd!
WHAT IT DOES
Unplugd has been developed to help people slow down and chillax. Unplugd is NOT an energy supplement… In fact, it's the opposite! Great for times when you need some quiet time to yourself to unplug and recharge the mind and body.

This listing is for Samples - For the lowest price buy this product by the case (dozen) at this link:
http://www.jackbgoods.com/unplugd-all-natural-herbal-relaxation-shot-12.html

What Makes Unplugd Different?
With so many 'relaxation' options available, it can be difficult to know which ones to choose. Unplugd is different, however.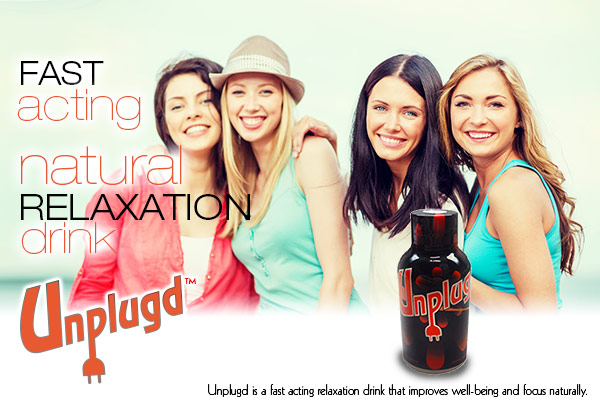 Far more effective than the leading relaxation drinks available, Unplugd takes a unique approach to relaxation.Instead of focusing solely on the body, this relaxation drink focuses on both the mind and body.The ingredients in this powerful fast acting relaxation drink are selected for their compatibility and for the ease with which they calm the mind and body.Several ingredients are a part of Unplugd's proprietary blend, meaning you won't find them anywhere else.

What to Expect from Unplugd
When you consume Unplugd, you can expect total relaxation, focus and creativity in a matter of just 10 to 15 minutes.Unplugdhelps individuals live a more fulfilling and better life by reducing stress.By enabling you to stay more in the moment, Unplugd increases your focus and frees you from the bondage of distress and anxiety.
Once you consume this relaxation drink, your down time will be yours to create, imagine and enjoy.
Unplugd—turn off the on!


Not intended for those under 18. Do not consume with alcohol. Do not consume if you are pregnant, nursing, have a medical condition or are taking medications. Do not take if you are operating a motor vehicle or equipment. Do not exceed two bottles per 24 hour period. May produce feelings of nausea if used in excess.
Read entire label before use.

These statements have not been evaluated by the food and drug administration this product is not intended to diagnose, treat, cure or prevent any disease.
By purchasing this product you certify and agree that you are over 18 years of age.



There are no reviews for this product.
Write a review
First Name:
Your Review:
Note:

HTML is not translated!
Rating:
Bad
Good
Enter the code in the box below: