EZ Sleep Mattress Foundation Gen III (New!)
EZ Sleep Foundations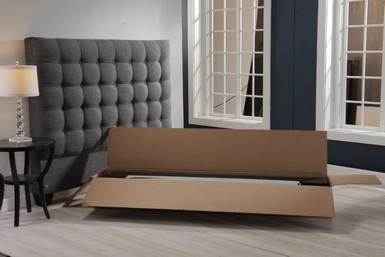 The EZ Sleep Foundation was created to be of the highest quality and to ensure a good night's sleep in conjunction with your Foam Mattress, Latex Mattress, Memory Foam Mattress, Air Adjustable Mattress, or Traditional Mattress.
The EZ Sleep Foundation utilizes a Fast-Loc corner device, which is engineered for stability and ease of assembly. A lightweight and fully upholstered durable solid wood frame was created to meet and exceed industry standards. Each of the EZ Sleep Foundations also utilizes at least one center support rail and a 12 slat system, which allows for proper air circulation and ventilation around foam based and standard mattresses.
A strong, but lightweight hardware mechanism was invented and patented by the company, along with the foundation design. The Fast-Loc corner block is engineered for stability, ease of assembly, and to be used in any number of applications. To compliment the design and meet a mattress industry need, a lightweight and fully hand upholstered, durable, solid wood frame was created.
---


The EZ Sleep Foundation is designed with the you in mind.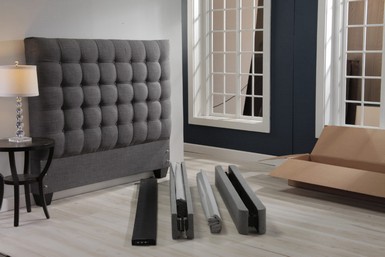 This piece of furniture truly requires no tools to assemble due to the patented Fast-Loc corner block design and tapered slide connection hardware. Center support rails easily glide into place. The tapered pegs slide into the block in each corner, completing the main assembly.

This is the most consumer friendly foundation ever created. Once out of the box, this mattress foundation takes less than five minutes to assemble. There are no bolts, missing nuts, or headaches. Just add any mattress, and a great night's sleep awaits. Most other foundations in the marketplace require 30 minutes of assembly time or more, but with the EZ Sleep Foundation you will be resting comfortably on your mattress in mere minutes.

---



You'll love the fact that you can safely and conveniently assemble and disassemble this mattress foundation for moving or storage.
Every EZ Sleep Foundation component is meticulously hand covered and upholstered prior to arriving at the customer's doorstep, which alleviates the potential of splinters. Other foundations in the marketplace can require the consumer to unpack exposed wood components, assemble them, and pull a draw string type cover over the raw wood.

Taking the time to hand upholster our product adds another layer of safety for the consumer, while also providing a nice clean and snug fabric fit to complement any mattress.
---

Safety and the Environment
EZ Sleep Foundations continuously pass the CPSC 1633 Fire Standards test with all compositions of mattresses tested.
Our foundations have also passed the 500lb+mattress / 50,000 cycle Rollator Test with ease, which simulated five continuous years of sleep.
For optimal burn test results, clean and environmentally safe fire retardant fabrics are used as a backing layer in the hand upholstered components and also in the non-skid layer covering the slats, which helps protect against flame from above and below. The foundation passes all government and independent laboratory flammability tests. The materials utilized in the components are designed for consumer safety and to meet all Consumer Products Safety Commission requirements. An environmentally conscious design means only one box for the consumer to recycle, even with a California King. The components that create the foundation are all one-hundred percent recyclable and reclaimable.
---


An EZ Sleep Foundation allows you to purchase a larger size mattress
In addition to being the perfect fit for any mattress, the EZ Sleep Foundation's compact design provides a solution for maneuvering through tight hallways, stairs, apartment buildings, dormitories, lofts and more.
With you in mind, EZ Sleep Foundations engineered a truly one-piece King and California King mattress support unit. Each ships in a single box via standard UPS or FedEx Ground can be easily transported in almost any vehicle. With dual center support rails running the length of the foundation, squeaking commonly found in conventional side by side Twin Long box springs is eliminated.
---

Premium Slats, Support, and Proper Air Flow
Our King, California King, Full, Twin, Twin Long, and Queen foundations contain a slat pack design with a breathable non-skid fabric that promotes air flow. The consumer won't need to use plywood or a box spring that could detract from the comfort of your new mattress. All foundation slats are spaced at 4" or less, with dual center support slats where you need it most.

We're often asked; "Can't I just use plywood for my bed so I don't have to recycle anything?". Utilizing plywood instead of a foundation can reduce proper air circulation around mattresses, can void warranties, and is not recommended.

To optimize a wood based foundation, a basic bed frame with a minimum of two (2) horizontal cross members is always recommended. This stabilizes any mattress support system and can help to promote air circulation through and around the unit.
---


Compact packaging makes the EZ Sleep Mattress Foundation an environmentally friendly solution for shipping directly to your door.
Each EZ Sleep Foundation comes with an unmatched 10-year warranty.
The EZ Sleep Foundation earns a 9/10 average rating in online mattress and foundation reviews.
---
How-To assemble an EZ Sleep Foundation instructions are included with every shipment. Instructions are included here; please see the Videos and Product Images.

View the quick assembly video >>
I like how this foundation is easy to set-up, and without the need for tools. The support is strong for my foam mattress. I am very happy with my purchase.
Its ridiculously easy to set up. Make sure that you have the 4 pieces of the frame facing the right direction (you'll see a little label on each piece telling you which side is up. Lock them in at each corner and place the locking mechanism into the hole. Place the middle beam in, throw the slats over and you're ready to go.A concern of mine was that the slats would creak. No issue with that at all. I also like that the fabric of the frame goes around it so theres nothing scratching up my floor. All in all, great item and i'm glad i bought i here.Customer service is top notch by the way. I emailed them a question about which shipping carrier they use at around 9pm est. They got back to me at 11pm. Even if it was on the west coast, that would be past normal business hours. I really appreciated it.Also, i was able to select free shipping and the item was delivered in about 3 days. VERY happy about that.
Prompt courteous service , very easy to assemble , at the best price I could find . And above all, being made in the US of A. Thank You .
Just want to let you know how pleased I am with my new foundation. I did have a little problem and it was handled very promptly and professionally. It is rare to see people who care so much about their customers as much as this company does. This really is as easy to assemble as in the video. I will be 69 next month, a small woman, and had this together by myself in 5 minutes. The design is genius. I am using a queen latex mattress so I did get a extra set of slats as they were a little farther apart than my mattress manufacturer specifies. It is very sturdy and the upholstery is lovely. I highly recommend that anyone looking for a new foundation gets this one.
This ez sleep bed foundation is well made and easy to assemble and the best part is there are no tools needed to assemble it! It is well thought I would say and you can not go wrong with their customer service, Pat was not only helpful but was kind enough to hear me out in our phone conversation. Kudos and more power to KD bedding foundation. Oh and I almost forgot to mention that this foundation is made in USA so the more reason I support this product!
Showing 1 to 5 of 5 (1 Pages)
Write a review
First Name:
Your Review:
Note:

HTML is not translated!
Rating:
Bad
Good