LIT - Experience - Mood Enhancer - Dietary Suppliment (3 Caps)
LIT - Experience - Mood Enhancer - Dietary Suppliment (3 Caps)

Experience + Mood Enhancer
Created using ingredients found in plants around the world, #Lit is an all-around experience-enhancer. It's designed to provide increased natural energy, blissful connection with those around you, music appreciation, sensory enhancement, immersion in your environment, and much more.
What to Expect
Sensory Enhancement
#Lit is designed to enhance your senses of vision, hearing, touch, and smell. Experience the world through a brand new lens.
Immersion In Your Environment
Become one with your environment. #Lit can help you to be 100% present in the moment. Say bye to worry, anxiety, and negativity.
Musical Enhancement
Whether you're at a festival, concert, or listening in headphones at home, #Lit can allow you to connect with music in a brand new way. All the feels.
Blissful Connection With People
Experience a connection like no other with those around you. Talk, laugh, make memories. There's nothing quite like it, we promise.
Empathy + Sociability
Feeling open can lead to new friendships, dance partners, deep conversations 'til the sun comes up… you know the drill. Experience it with #Lit.
Rush of Natural Energy
Dance the night away while feeling GREAT. Increase your energy the safe & natural way…..without the crash. You'll wake up feeling refreshed and ready to talk about the night before.
#Lit takes advantage of extremely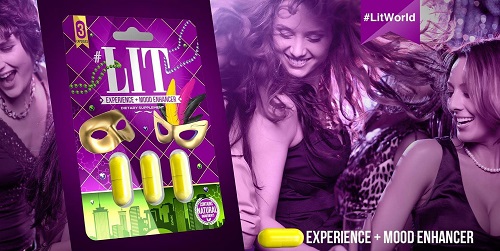 complex neuroscience. It contains 10 plant-based ingredients which, when combined at the proper ratios, can stimulate your brain's feel-good neurotransmitters. It is designed to first supply them to the brain to prevent depleting your own supply. That's why you can bet on not having to deal with the dreaded crash. Welcome the best experience enhancement supplement in existence.
**These statements have not been evaluated by the Food and Drug Administration. This product is not intended to cure, prevent, or treat any disease or illness.
This listing is for the (1ea) pack of 3 Capsules
Please note the special Quantity Discount Pricing Above!
Ships via USPS First Class Mail, Priority Mail or Priority Mail Express
Free Priority Shipping for Sub Totals of $49 or More
To view all of Whole Herbs products, click on the product logo above the product code above...
Not intended for those under 18 - Must be 18 years or older to purchase.

Read entire label before use.

Ships Nationwide to all 50 states...



There are no reviews for this product.
Write a review
First Name:
Your Review:
Note:

HTML is not translated!
Rating:
Bad
Good