Affiliate Program
What is Affiliate Marketing?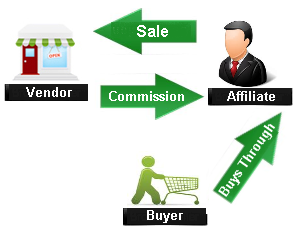 Affiliate marketing is a type of performance-based marketing in which a business rewards one or more affiliates for each visitor or customer brought by the affiliate's own marketing efforts.
How does the Affiliate Program work?
Our Affiliate Program allows you to place a link on your web page, link on your blog page or place a link on your website to our store. You may use our affiliate coupon as well. When that customer links to our site or uses your coupon and buys, you earn Commission $$$.
Affiliate Links
Here's How They Work
Get your links, ads and banners from your affiliate My Account page.

Place relevant links, box ads and/or banners on your site.
It's that easy!
Here's How you Get Started
Click the Affiliate Login link at the bottom of any page.

Select Create Account

Enter your info and tell us how you want to be paid.

Get your links, ad and banners.
Place the links ads and banners on your site.
Affiliate Coupons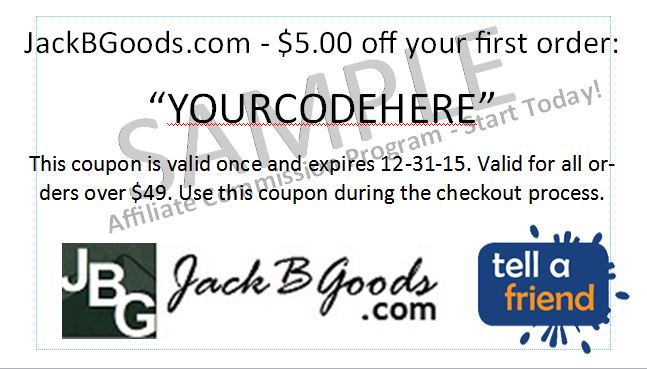 We have updated our affiliate program to include coupons!
Here's How they Work
Give the coupon to a friend

Your friend receives a discount on their purchase.

You receive commission on that purchase and future purchases by your friend.
It's that simple.
Here's How you Get Started
Click on this link to register your affiliate account. LINK
Contact sales@JackBGoods.com for your coupon today. Your coupon code will be emailed along with some great ideas for getting started. Here are a few:
You can place an ad, usually for free, in your church bulletin.
The great thing about an affiliate coupon is that no website or blog is required to earn commission. Simply spreading the word to friends, colleagues and groups with similar interests is all it takes.
Pick a product to promote and

get started today:

LINK
How you Get Paid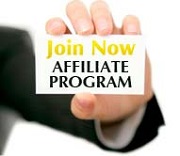 Commission Payments are processed monthly. Contact us anytime at Sales@JackBGoods.com or call 601-884-0054.

You are paid Commission on all purchases by that referral for the next 180 days. (six months!)

When your referral makes their purchases, you earn 5% Commission on each sale.

When a customer purchases using your link or coupon, your Affiliate Account ID is saved with the order so you get credit for the sale.

Payments are made via PayPal or check to the email address you provide.

To check on your balance, login to your Affiliate Account. LINK
Your Success is our Success - Support
We are here to help! Contact Us Anytime
Technical support -

Sales@JackBGoods.com or call 601-884-0054.
We will create a banner or ad for you, let us know what category, what size and color and we will make it and save it to your account. We will help with installation on your site as well.
We will create a coupon for any specific project you are promoting.
---
Link Code and easy to make banners and ads available when you sign up... Click here to register: Earn Commissions Now
---
Sample Live Banners