Derall - Boost - Focus - 2 Capsules (2 servings) (samples)
Derall - Boost - Focus - 2 Capsules (2 servings) (samples)
NEXT LEVEL FOCUS!!! - No Crash!
Individuals who may be unsatisfied with typical energy drinks which contain only caffeine and (and many empty calories from sugar) may seek out other options which they feel will offer more assistance in maintaining focus and cognitive performance over long periods. Derall Boost offers more than the typical caffeine pill because raw energy is only one part of the performance.
Derall's proprietary formulation includes: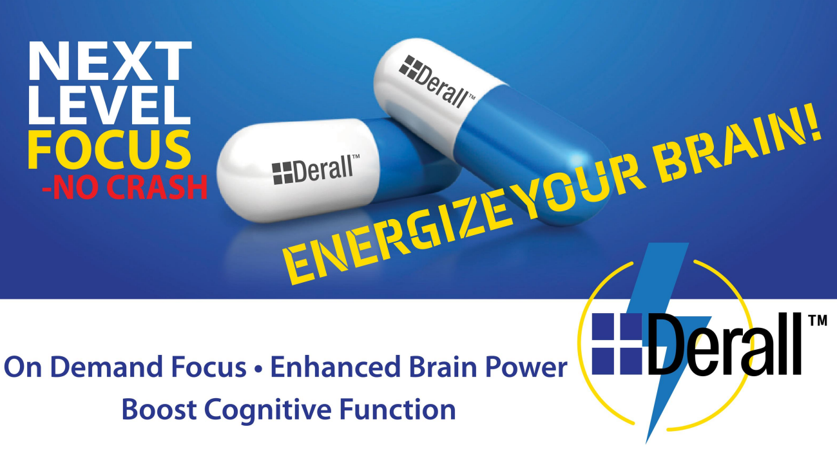 Phenibut – anxiolytic (used for anxiety reduction).
Oxiracetam – nootropic stimulant.
Alpha GPC (Alpha-glycerophospocholine) – dietary choline supplement used for cognitive enhancement.
L-theanine – amino acid which used to promote relaxation without drowsiness.
1 pack of 2 each
To buy a case click here -
By the Case
Quantity Discounts apply automatically based on the discount table above.
Ships via UPS/USPS Priority Mail or Priority Mail Express
Free Priority Shipping for subtotals of $49 or more
Made in the USA

Keep out of the reach of children. Do not use if operating a motor vehicle or heavy machinery. If you are pregnant, nursing, or have a medical condition or taking the medication you should consult a physician before taking.



Not intended for those under 18 - Must be 18 years or older to purchase.



Read entire label before use.



**These statements have not been evaluated by the Food and Drug Administration. This product is not intended to diagnose, treat, cure or prevent any disease.**

There are no reviews for this product.
Write a review
First Name:
Your Review:
Note:

HTML is not translated!
Rating:
Bad
Good