Kush Kube- Legal Cannabis - Gummies - Pineapple Strawberry Flavor - 300MG - THC+CBD - (10 Gummies)
Kush Kube- Legal Cannabis - Gummies - Pineapple Strawberry Flavor - 300MG - THC+CBD - (10 Gummies)
Unlock the power of a full plant profile with our high potency full spectrum Delta 9 THC + CBD Kush Kubes. Do you love our broad spectrum and low potency full spectrum formulas but are looking for a wellness boost? Look no further! Within each gummy, there is 15 mg of Delta 9 THC and 15 mg of CBD that work together to give you the ultimate feeling of calm and balance in one delicious treat. When multiple cannabinoids and terpenes from hemp work alongside Delta 9 THC, you get a more effective and well-balanced experience.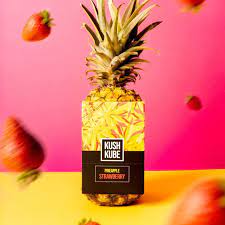 Each flavorful square gummy contains 15 MG of D9 and 15 MG of CBD - 300 MG Per Pack
Suggested Use: Half of a gummy to start.
Storage: Keep away from heat, light and humidity to preserve freshness.
Caution: Do not exceed suggested use. Do not use if safety seal over cap is broken. Please consult a medical professional before use if you have a medical condition or take medication. If you experience any adverse symptoms after use, discontinue and consult a medical professional.
Consume 1/2 Gummy and wait 35-45 min to establish individual tolerance
Sodium citrate, pectin, natural flavor, natural color, distilled water, granulated sugar, citric acid, hemp seed oil, tapioca syrup LMO-DE 43
Made in the USA.
Retail Price $29.99ea
10 Gummies per pack, use 1/2 Gummy to start
Also sold in handy 10 pack shelf display packaging, Enter 10ea to your cart.
Ships via First Class Mail, Priority Mail, Priority Mail Express or UPS/ UPS Next Day Air
Free Shipping for Sub Totals of $49 or More
These statements have not been evaluated by the Food and Drug Administration. These products are not intended to diagnose, treat, cure or prevent any disease.
Read Entire Label Before Use
Not intended for those under 18. Do not consume with alcohol. Do not consume if you are pregnant, nursing, have a medical condition or are taking medications. Do not take if you are operating a motor vehicle or equipment.

There are no reviews for this product.
Write a review
First Name:
Your Review:
Note:

HTML is not translated!
Rating:
Bad
Good