K Chill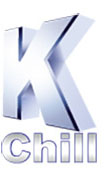 ​
K-Chill! Original Maeng Da Blue, Red Hush, Extreme Green, White Lightning in Capsules, Powders and Shots!
Life is fun. We enjoy every minute of this journey by savoring the good times, and not letting the "not so good" times get us down. So relax, enjoy the journey, and join us in living the chill life.
Finding time and energy in the day to day can be challenging, especially if you're trying to take care of everyone and everything in addition to yourself. The entire K-Chill lineup has been carefully designed to give you two distinct benefits to help with this inevitable grind.
All K Chill items have been specifically formulated to help lift your mood, and this benefit is prevelant in everything we make. The second benefit is that K-Chill is customizable. You can choose to reach a deeper level of relaxation or you can choose to get a mild or extra strength energy boost with our products, the choice is yours! K-Chill is made to fit individual needs to help manage stress for overloaded people.
Drink. Relax. Be Happy. Relax. Take a Chill Pill.