CBD Terpenes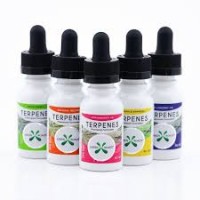 What Are CBD Terpenes?
CBD Terpenes are the natural compounds found in hemp plants that are responsible for the plant's color, smell, and flavor. CBD stands for cannabidiol, a compound found naturally in hemp plants. By infusing our supportive CBD oils with terpenes, we take advantage of the 'entourage effect,' a synergy of multiple natural compounds that let humans process CBD in a more natural way.
There are over 100 different terpenes in the cannabis plant, and every strain tends toward a unique terpene type and composition. Each individual terpene promotes its own set of unique effects. Some promote relaxation and stress-relief, while others focus and acuity. Linalool, one of the most common terpenes found in the hemp plant, is thought to have a calming effect on nerves. Humulene, however, acts as an excellent anti-inflammatory agent.
Benefits of Terpenes
Below is a list of three most common terpenes found in the hemp plant and their benefits:
Myrcene:
Myrcene has a musky, earthy taste and contains fruit flavors of red grape and balsamic. Myrcene acts as a powerful anti-inflammatory agent that relaxes muscles and acts as a sedative.
Limonene:
Limonene has a citrus aroma, the benefits range from stimulating weight loss to helping manage normal stress. Furthermore, it may improve digestive issues through its potent antibacterial and antifungal effects.
Terpineol:
If you like the taste of cloves and pine, then you will enjoy terpineol. Terpineol acts as an antioxidant, which means it helps clean the body of toxins and restores it to good health.
There are no products to list in this category.