FRS/GMRS Radios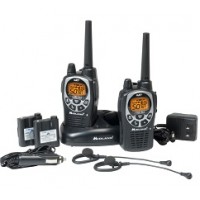 The Family Radio Service (FRS) is an improved walkie talkie radio system authorized in the United States since 1996.
The General Mobile Radio Service (GMRS) is a North American land-mobile FM UHF radio service designed for short-distance two-way communication.
GMRS radios are typically handheld portable devices much like Family Radio Service (FRS) radios, and share the FRS frequency band near 462 and 467 MHz.
Hybrid FRS/GMRS consumer radios have been introduced that have 22 channels. Many of these radios have been certified for unlicensed operation (on the 7 FRS frequencies, channels 8-14) under FRS rules.
The FCC rules and statements regarding the use of hybrid radios on channels 1-7 stipulate the need for a GMRS license when operating under the rules that apply to the GMRS. Many hybrid radios have an ERP that is lower than 0.5 watts on channels 1-7, or can be set by the user to operate at low power on these channels. This allows hybrid radios to be used under the license-free FRS rules if the ERP is less than 0.5 watts and the unit is certified for FRS operation on these frequencies.
Showing 1 to 1 of 1 (1 Pages)