Experience Botanicals Fast Acting Premium Maeng Da Capsules (150ct) 100% Organic
Experience Botanicals Fast Acting Premium Maeng Da Capsules (150ct) 100% Organic
Experience Botanicals™ Maeng Da Herbal Dietary Supplement is a Premium Blend of Mytragyna Speciosa Leaf Extract packaged in fast acting capsules. (150 each)
Premium Maeng Da
Price is per 1 Bottle (150 Capsules)

Approximately 700 mg per container.

Capsules are used as carriers or containers for the Maeng Da, and to help facilitate the handling of raw powder.
Ships via USPS First Class Mail, Priority Mail or Priority Mail Express
Free Priority Shipping for Sub Totals of $49 or More
To view all of Experience Botanicals products, click on the product logo above...
Shipping Exclusions may apply see Restriction Info Tab to the right for Details

Caution: Not intended for those under 18

.

Read entire label
**These statements have not been evaluated by the Food and Drug Administration. This product is not intended to diagnose, treat, cure or prevent any disease.**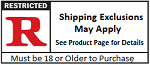 I started taking this product in June 2019. I have 2 herniated discs and have been going to chiropractic care once a week for over a year. Once I started taking kratom, I was able to reduce my visits to once every 2 weeks. I don't feel 100% but the pain is manageable and I get an energy boost from just taking 3 capsules daily. My mood has improved and I feel much better. I do not take any prescriptions so this was a bonus to find something to add to my regimen to help me as. I drive a commercial vehicle. I need to make sure I was safe to drive for me and other drivers.
My preference is Maeng Da and this product, although not the best out there, is a good all-around product for focus, some energy and helping with a stressful day! And you certainly can not beat the price! It is a good back-up to have.
Showing 1 to 2 of 2 (1 Pages)
Write a review
First Name:
Your Review:
Note:

HTML is not translated!
Rating:
Bad
Good