Natures Gift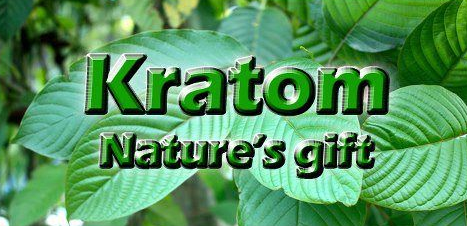 What is Kratom?
Mitragyna Speciosa, best known as Kratom, is a large tree in the coffee family that is native to Southeast Asia. Kratom trees can grow up to 60 feet tall.
What is Kratom used for?
Kratom, like coffee, has been used for thousands of years for medicinal purposes. Traditionally used by laborers and farmers who would use the leaves on the tree for energy while working, just like coffee. Kratom is successfully used today for the treatment of depression, anxiety, chronic pain, addiction, and numerous other ailments.*
Is Kratom safe to eat?
Yes! Kratom is as safe as coffee and can be eaten or brewed into a tea to drink. Kratom is less habit-forming than coffee and eating too much usually only produces nausea. Many news reports will label Kratom as a "drug". Kratom is no more a drug than coffee is a drug.
Never believe media reports about Kratom, the media has a motivation to demonize something for ratings. Kratom is organic, safe and natural. It can replace numerous dangerous pharmaceutical substances, thus drug companies also have a motivation to lie about Kratom.
---

KRATOM FACTS
********** REALITY
Kratom is much safer than prescription drugs and shows no negative effects.
*********** HABIT FORMING
Like anything else, Kratom can be habit-forming, like taking coffee every morning.
********** GREAT BENEFITS
Including pain relief, relaxation and even increased awareness and good mood.*
*********** SUBSTANCE IN USE
Most Kratom users are middle-aged and well-educated folks.
---
Remember!
Never believe media reports about Kratom, the media has a motivation to demonize something for ratings. Kratom is organic, safe and natural. It can replace numerous dangerous pharmaceutical substances, thus drug companies also have a motivation to lie about Kratom.
*These statements have not been evaluated by the Food and Drug Administration. These products are not intended to diagnose, treat, cure or prevent any disease.
---
Sign the petitions
Success Stories
Read and share how Kratom has positively impacted your life
Real Testimonials Shared With AmericanKratom.Org (many More at the link above)

My name is Melissa and I am 29 years old. I support Kratom use one hundred percent, I was diagnosed with Fibromyalgia at the age of 18, was in constant pain because I also have scoliosis in my lower back. so that with the fibro flare ups were just debilitating. I was depressed and had no will to do anything. I was on antidepressants and muscle relaxers and pain pills that ranged from oxycodone to delauded, I was introduced to kratom one day after I had gone into a store and saw the bags of kratom and asked what they were the cashier told me that it reduced pain and lifted your mood, I was very skeptical but decided to try it because I would do anything to get rid of my pain for just one hour. I got a pack of Maeng da pills and that afternoon I was amazed to find that I didnt hurt and I felt good for the first time in years! I take kratom in the powder form and make a tea out of it now, drink it first thing in the morning and I feel great all day long. Kratom saved my life, I wanted my pain to go away so bad I was hoping to get into a car accident or something to just end it all. But now I take my dog for walks every single night and I see my friends more often and I dont feel helpless because finally something works that isnt a chemically made substance, I love being able to say I dont take any pills anymore at all, just a tablespoon in my tea and I am doing things that doctors told me I couldnt do anymore. Mother earth provides us with what we need and thats the truth.

Greetings to my new Kratom family, my name is Tom, I am 51 and I live with my wife in a small town on the East Coast of North Carolina. I am fairly new to this group and to Kratom as well. I don't have any chronic conditions that I take Kratom for other than the occasional migraines, some arthritis in my shoulder and the typical aches and pains you start to get at my age. The main reason why I am such a big supporter of Kratom and why I love my favorite vendor "Golden Rule Botanicals" so much is because Kratom and GRB gave my son his life back. My son who is 29 now served his country as a Battlefield Medic in the Wardak Province, Afghanistan. I thank God everyday that my son came home alive, but he did not come home in one piece. The war has left deep mental scars from horrors he witnessed that we can't even imagine and his body has aged well beyond its years from the many patrols through the mountainous terrain he had to march with all the heavy gear on his back. The mental toll left him with major PTSD that caused him bad Insomnia and when he did sleep, it wasn't for very long due to the chronic back pain and the nightmares. My son was very angry for a long time due to the lack of sleep and chronic pain: the VA was a joke, instead of helping him, the simply added to his frustration and anger, he was very difficult to be around because he would blow up over the slightest thing. The medication the VA tried to put him on simply made him more angry (on of the may side effects) so finally he started smoking weed which helped some but can't be done all the time because it is illegal in our state and it's expensive. Fast forward to a few months ago and my son discovered Kratom. He heard about it from somebody and he started to investigate it; while seeking answers he met Brandon James Bird on line who helped answer his questions and he ordered some Kratom from him (Golden Rule Botanicals).....Boom, my son got his life back....that's the bottom line. My son can sleep at night (all night), he can go out and enjoy life pain free, he is his normal lovable self again. Kratom and Brandon Bird (owner of Golden Rule Botanicals) gave my son his life back and gave me back my son, I as his father can not find the words to express my gratitude to Brandon for his help.

I was on opioid pain killers for 15 years due to a rare spinal chord disorder and Kratom is the reason I'm no longer funding big pharma.. I wanted to get off the fentanyl and OxyContin because I honestly felt like a slave to the drugs.... Kratom not only helped me in this process of withdrawing it also helped my pain... Now due to Kratom I am living a productive life again for the 1st time in many years... I use it to relieve my pain when it's bad but when the pain is tolerable I can not use it without the sickness, sweating, vomiting and sleeplessness... It is a lifesaver! By no means is Kratom anywhere near as addictive or dangerous as pharmaceutical pain medication... They are completely different in a good way... If they ban it I will be forced to take opioid pain medication again which will completely ruin all of my progress fighting my conditions which are called called Syringomielia and Arnold Chari 1 Malformation and turn me into a near death zombie once again.. I am completely convinced that the only reason the GVT is trying to ban Kratom is to increase the tax income they receive from the pharmaceutical companies... We pay sales tax on Kratom anyway however the cost of it is minimal compared to the thousands of dollars opioids cost !

I am now 44 but started taking Kratom at age 39 to help ease my debilitating headaches after working, as a nurse, I suffered a brain injury. I found that not only did the herbal supplement help my headaches, it helped with my cognitive impairment as well. I injured my back during the initial fall and multiple times during seizures. Kratom helps ease that pain as well. If the Kratom ban goes through I would be forced to rely on opiates for my pain control and be faced with the very certainty of becoming dependent on these medications. It's bad enough that my career and driving ability was ripped away from me… Now I just fall into an even deeper depression over the little choices I have also being taken away. Before I found Kratom I had attempted suicide four times… But having even thought of it since. Thank you for hearing my story​.


Sign the petition
to keep Kratom available for all Americans at this link: https://www.americankratom.org
---