Survival Products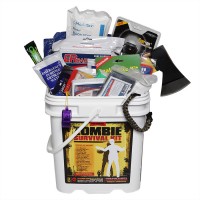 Ten essentials list
According to the 6th edition of Mountaineering: The Freedom of the Hills book there are ten essentials, which are now referred to as the "classic" essentials. While still valid and widely used they do not reflect modern outdoor sports and all of the new gadgets that now are common. From Wikipedia.
1. Map, 2. Compass (optional GPS receiver) 3. Sunglasses and sunscreen, 4. Extra food, 5. Extra water, 6.Extra clothes, 7. Headlamp and/or flashlight, 8. First aid kit, 9. Fire starter (lighters, ferro-flint rods, matches, firelighters, Sterno canned heat, magnifying glass, or a magnesium stick) 10. Knife
Build your own kit piece by piece, or select a kit and customize it with our great selection of survival products. Prepare Now.